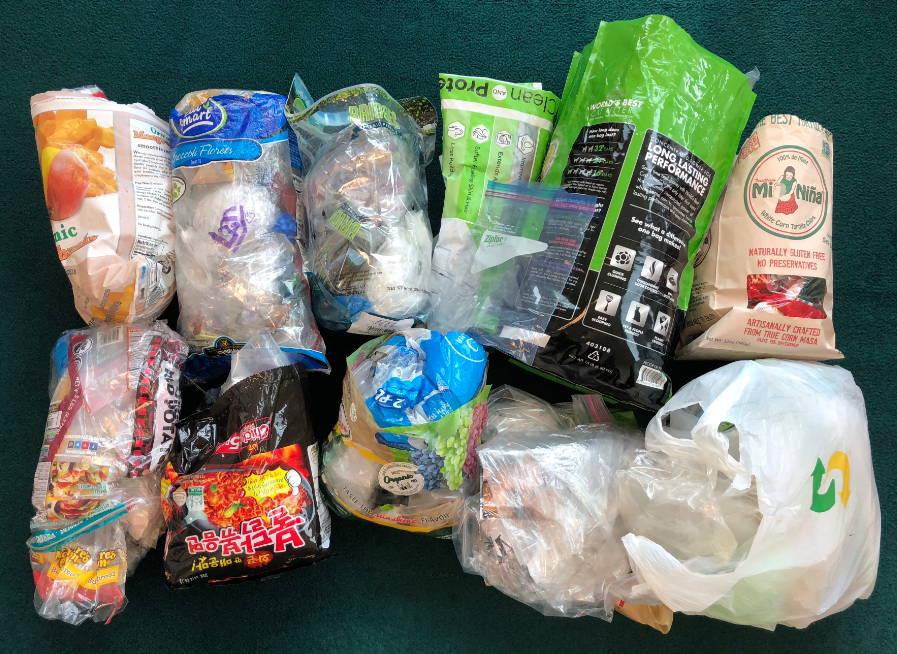 By now, you've probably heard about Plastic Free July's "Choose to Refuse" challenge. If you haven't heard of the organization or the effort, I encourage you to take a look at their website and everything they're doing to help eliminate the use of plastics.
My own journey to eliminate plastics actually began on Earth Day when I asked myself what it would be like to have to carry around with you everything that you acquired for the rest of your life. I conjured up this not-so-funny image of myself bent over, burdened under a giant rounded-up mound of garbage, somewhat like an erect tortoise. Burdened was the operative term as, when I thought about it, I felt the weight of my impact in creating a waste stream that was impacting real-life turtles.
I resolved to first get a sense of the scope of the problem by holding onto every single-use plastic bag that came into our home. That is what you see pictured above. With a family of 5, you can imagine that I don't have 100% compliance in collecting it, but I've also gathered plastic bags as I've found them at other places, bringing them home and adding them to my stash, so I feel it's pretty representative. And disturbing.
Here are the stats:
Weight of Recyclable Bags: 6 lbs.
Weight of Non-Recyclable Bags: 12.9 oz.
There's a lot hidden in those weights, so I decided to do a further analysis of the recyclable bags. For simplicy, I sampled half of what I'd saved and figured it would be close enough.
Bag Type
Qty (Sample)
Qty Per Year
Weight Per Year (Lbs.)
Cereal, Candy, Chips, etc.
Household (Water System Salt, Toilet Paper, Cat Litter)
Instant Drinks, Flavor Packets
General Clear (Coffee, etc.)
Shipping (Airpak, Mailers, etc.)
According to this analysis, our family would collect almost 24 pounds of plastic bags in a year and over 1,100 bags. Not so super enviro-conscious! And that's the recyclable bags. The not-recyclable ones are still another 0.75 pounds in my sample or 3 pounds per year.
So far, it's the non-recyclables that I've been able to take the most action on, the low-hanging fruit if you will. I have a confession to make: I like good coffee. Coffee from Counterculture, Intelligentsia, Stumptown. Sadly, though, with a commitment to reduce plastic, I can't make it part of my morning routine. The bags that it comes in are made of a mixture of materials, some "compostable" like paper and others not like, well, plastic.
There is actually a video showing the "composting" of the types of bags these coffees come in and they show how the paper part goes away and all you now need to do is locate in your compost pile all of the strips of leftover plastic. Oh, and throw away the little valve that comes on the bag to keep the beans fresh. No thank you. I've switched to a local coffee roaster that puts their product in two separate bags, one paper and one plastic, so I can recycle them both (or compost the brown paper one).
Why did I choose to focus on plastic bags? Because I have learned that recyclers in many locations are not equipped to process bags, accepting only rigid or hard plastics, which means that they simply end up in the garbage. Since this is the case where I live, I looked to find alternatives. It turns out that Trex, a manufacturer of synthetic wood products has a recycling program that can turn bags into their products. One of their dropboxes is not far from me, so dropping them off should also be convenient. Look here to see if there's a location near you.
Even recycling isn't a perfect solution. What becomes of composite materials in the future? What happens to all of the broken down "microplastics" that exist as particles for at least 500 years. In actuality, we don't know how long they last, we only have estimates.
I'm so glad that we at Taproot chose to lose the bag with our previous issue. So far, we've been gratified by your support of this change and we haven't had to reship a large number of replacement copies for damaged or missing copies. Together we can solve this problem.
~ Jason, Publisher