Taproot is an ad-free, bimonthly print publication for makers, doers, and dreamers, with a focus on food, farm, family and craft. Subscribe or renew to receive Taproot straight to your mailbox and save off the cover price. Subscriptions sustain our ad-free, independent publishing. Thanks for your support!


US Subscriptions

1 Year: 6 issues for $48
just $8 / issue (save $24 off cover price)

2 Years: 12 issues for $84
just $7 / issue (save $60 off cover price)


International Subscriptions

1 year: 6 issues for $66
just $11 / issue

2 years: 12 issues for $120
just $10 / issue
Shipping is included in the price of all subscriptions. See FAQs for further details. Subscribing is the most economical way for international readers to receive the magazine, to avoid international shipping costs.

Subscriptions are non-refundable.


Gift a Subscription

We are pleased to offer Gift Subscriptions for the fellow makers, doers, and dreamers in your life! Select "Give a Gift" and follow the notes on the product page to purchase a gift subscription. We'll even send a note to your recipient to notify them, if you'd like!

NOTE: Be sure to check out the subscription deadlines, and time your purchase accordingly so your recipient doesn't miss out!
Choose the "Subscription Renewal" link above. If you provide your email with your subscription we will notify you via email when your subscription is about to expire. The mailing label on your most recent issue will also include how many issues you have remaining on your subscription. In addition, you can always check with us with questions about your subscription.

UPCOMING ISSUES
Issue 51::IMAGINE (June)
Issue 52::SAVOR (August)
Issue 52::AMEND (October)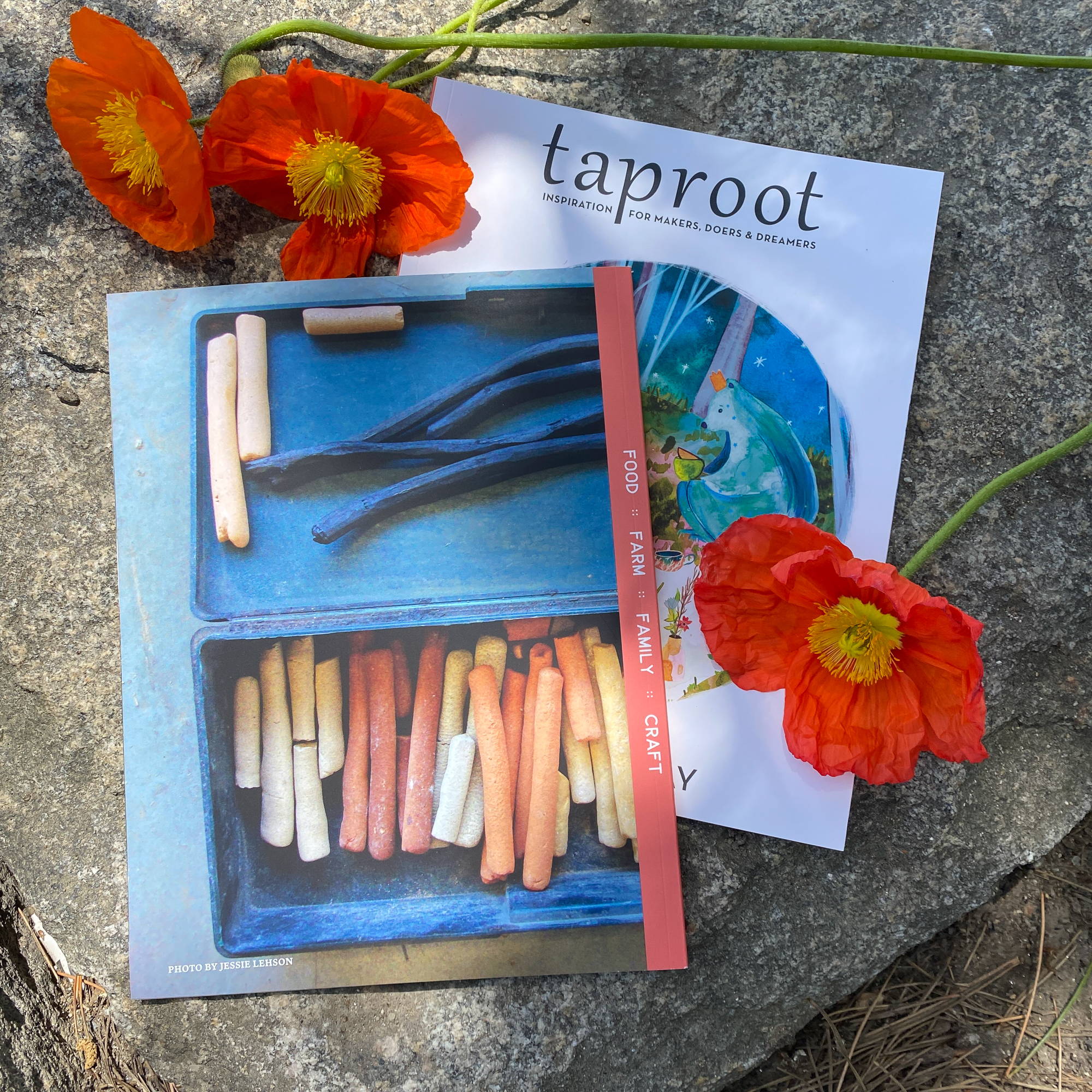 Subscriptions always begin with an upcoming issue, determined by our publishing schedule and subscription deadlines. Your first subscription issue will be indicated on the subscription page at the time of purchase. The current issue will always be available to order or preorder while you await your first subscription issue.
Subscribe or Renew to receive Issue 51::IMAGINE! New subscriptions and renewals purchased from March 9th on will start with Issue 51::IMAGINE.
Past deadlines
Issue 50::SOW ~ subscriptions and renewals purchased between January 11 and March 8 will start with Issue 50::SOW.
Issue 49::REFRESH ~ subscriptions and renewals purchased between November 9 and January 11 will start with Issue 49::REFRESH.
CONTACT US
Questions on the status of your subscription?
Customer Service is happy to help you out.

email us: subscribe@taprootmag.com
call: 207-835-6067

THANK YOU FOR SUPPORTING AD-FREE & INDEPENDENT PUBLISHING.